Biltong- delicately dried meat, originates in South Africa where it was brought by Dutch settlers in the early 17th century.
This original recipe was perfected in our family-owned butchery est. in 1994 to the desired taste, tenderness and long-lasting freshness. 
Our organic (BIO) beef comes exclusively from grass-fed, free-range cattle from a local farm, raised without hormones and antibiotics.
We use only BIO and natural ingredients with no preservatives or chemical additives.
As a traditional snack rich in proteins and low in fats and sugars, biltong makes the right companion to hikers 
, bikers 
, climbers 
, bodybuilders
, travellers
, meat lovers 
; it goes well with a drink
 and it's a unique ingredient in gourmet cooking 
 and more..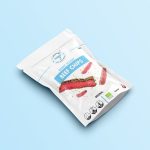 Traditional recipe with
pure & natural meat taste.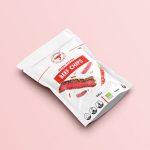 Fancy extra chilli with your biltong? We've got you covered.
A sprinkle of black pepper
will do the trick of a mild change.
It takes 270 g of PREMIUM organic grass-fed lean topside beef to produce 100 g of our BIOBILTONG.
We are a family-owned business with a long tradition in butchery, joined by a few of our close friends: Octavia being born a South African; growing up on her regular biltong doses and Vladimir being a professional butcher his whole adult life.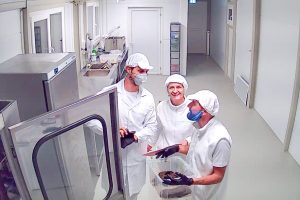 Our dedicated team of friends and family has the great aspiration of creating a food snack that is truly delicious and only of the highest standards. No shortcuts. Ever.
BIOBILTONG s.r.o.
Druzstevna 226/23
Dobra Niva 96 261
Slovakia (EU)
+421 951 319 683
info@biobiltong.com